Warm weather is finally here on Cape Breton! The last of the snow has melted away and our kayaks are in the water.
Read below to find out what you could have in store at Cabot Shores over the coming months. There will be delicious food, traditional music, treetop domes, and pet-friendly adventure!
Mother's Day Dinner & Brunch


May 12 & 13
Want to treat mom to something special this Mother's Day?
We will be having a special 4-Course Dinner in our GoBistro for $49+tax on Saturday, May 12 (Reservations from 5:30pm-7pm), and a Mother's Day brunch for $15+tax on Sunday, May 13 from 10am-12pm.
 Click here to purchase tickets for the Saturday night dinner. Make reservations by phoning 902-929-2584.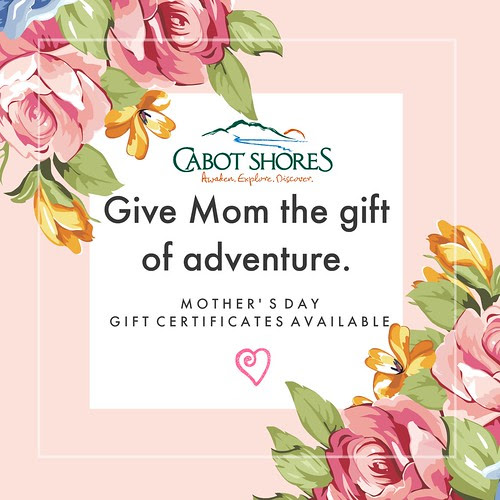 Gift certificates are available for any dollar amount, which are emailed to you after purchase (no need to drive to Cabot Shores to pick them up!). Click here to purchase a special Gift Certificate for mom.
Wisdom Rising Dakini Retreat
May 25-27

A meditation retreat and celebration of the empowered feminine.
Drawing on her experience as a Tibetan Buddhist nun, who became a best-selling author and world-renowned Buddhist teacher, Lama Tsultrim Allione offers a guide to access a previously forbidden aspect of the feminine: the fierce wise dakini, whose juicy potency is needed to meet the gale force winds of the current world situation. In the midst of the #MeToo and #TimeIsUp, we see women rising, coming out of silence into empowerment, but what inner practice can we draw on to stay centered, not get depleted and transform anger into wisdom?
Click here to find out more, and to register.
We are kicking off our Summer music series with KitchenFest!
Come for a night of delicious food and Gaelic music at Cabot Shores Wilderness Resort

Saturday, June 30

!
KitchenFest! is a traditional music festival that showcases local musicians with music that is rooted in Gaelic tradition.
Indulge in a 3-Course Meal prepared by talented Chefs Ron and Nicole in our GoBistro.
Whether you're vegetarian, vegan, gluten-free, a local seafood lover, carnivore or somewhere in between, you'll be sure to find something on our menu that delights your taste buds!
$45+tax includes 3-Course meal and concert. Dinner reservations can be made for 5:30pm-8pm, with concert from 8pm-10pm.
If you would like to find out more information, or purchase tickets, please visit our website or phone us at 1-866-929-2584.
Spring Yogascape Retreat
A small, rejuvenating yoga retreat took place at Cabot Shores Wilderness Resort April 27 to 29th, with Yoga Instructor Blaine Carter.
Read all about it on our blog
!
Want to receive special offers and be the first to know about upcoming yoga events?
Chefs Corner
Cabot Shores Granola
Looking for new breakfast ideas? Try our healthy and delicious granola recipe! Eat on its own, or serve on top of oatmeal or yogurt. Mmmmm! View recipe here.
Pet-Friendly Adventures
Ready to hike, beach-comb, kayak or yolo board with your pet?
Cabot Shores offers many pet-friendly lodging options so you can bring your furry friend on vacation with you!
Want to find which of our unique accomoodations is perfect for your family? Phone us at 1-866-929-2584 

Recent Guest Reviews
"The Cedar Yurt was amazing and the woodstove was very cozy! Staff were very friendly as well! Walking around the property seeing the mountain views was incredible! Thank you so much! The food at the bistro was delicious!" – Justine & Kallum
"Had a beautiful and relaxing time with my daughters. Cedar Yurt was so warm and cozy. We wanted to stay longer. Definitely coming back. Staff was super friendly and helpful. 5 star experience. Have told all my friends about this great experience." – Michelle
Considering staying in your own Yurt, Lodge room, private Chalet, or Treetop Dome? Now is the time to book! We are quickly filling up for July and August.
 Click here to select your preferred dates and lodging.
Follow us on Social Media

From your friends at Cabot Shores
P.S. Dr. Paul will be contacting you about the landing of a blue dragon at Cabot Shores in the coming weeks. Stay tuned!