Cape Breton Island is a Canadian hidden gem if there ever was one. The island has dramatic seaside cliffs that rival Midcoast Maine, California's Big Sur, and even stretches of Hawaii. Martens, moose, lynx, and snowshoe hares frolic the land, unstirred by our presence. A rising, homegrown culinary scene continues to blossom along the Atlantic Ocean's sapphire blue shores. And, of course, the biodiverse terrain and countless natural water sources provide adventurers with endless exploration within steps of Cabot Shores Wilderness Resort, including trails leading to beaches, waterfalls, and even hidden lakes. It's no wonder that Cape Breton Island has evolved into one of the premier wellness retreats in Canada.
Unwind, Relax, and Rejuvenate: Wellness Retreats in Canada
Twelve months a year, couples, groups, and even solo travellers trek deep into Nova Scotia. These lucky adventurers come here to unwind, rejuvenate, and restore balance amid lapping waves, swaying forestry, and melodic whispers from Mother Nature. To become one of the best wellness retreats in Canada, one must offer a wide variety of relaxing, liberating amenities, including yoga, massages, and ample forest bathing. And several times a year, Cabot Shores Wilderness Resort holds a wellness retreat getaway that provides weary travellers nourishment, restoration, and meditation. The next event takes place in mid-February (check our website for dates and times). Typically, each two-day meditation retreat includes yoga, outdoor hot tub relaxation, adventure-based exercise (such as snowshoeing or hiking), a cozy bonfire with friends new and old, healthy meals, and, of course, a unique lodging experience.
A Physical and Mental Health Retreat
If you'd prefer to explore Cape Breton Island's 10,000 acres as a unit, feel free to take full advantage of our on-site paddle rentals, wellness add-ons, and complimentary amenities. We're proud to provide self-directed travellers with fully-customizable wellness retreats in Canada. To ensure that your next escape to Nova Scotia is nothing short of flawless, we've compiled 10 reasons to embark on a physical and mental health retreat to Cabot Shores Wilderness Resort.
Daily Complimentary Qi Gong and Meditation
Acupuncture and Wellness Therapy (only auricular acupuncture during Covid-19)
Medicine Walk
Private Hot Tubs, Including the Japanese Cedar Soaking Tub
Unique Lodging: Yurts, Domes, Tiny Houses, and More!
Ceaseless Hiking and Snowshoeing Possibilities
Jam Sessions: Rousing Live Music
Eco-Friendly Retreat Spaces, Including the Red Dragon Yurt
Kayak, Canoe, and SUP tours
Cape Breton Island's Awe-Inspiring Beauty
Check out the Fall Wellness Retreat–"Nurture Meets Nature and Adventure"
Quintessential Cape Breton Resorts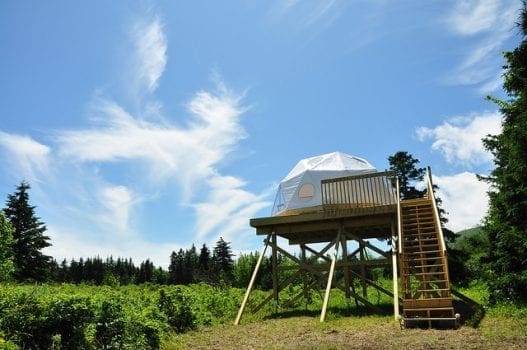 Yes, Cabot Shores Wilderness Resort is home to revitalizing, all-inclusive wellness retreats in Canada. But don't forget that we're also located within minutes of countless family-friendly attractions, including breathtaking Cape Breton Highlands National Park, Donelda's Puffin Boat Tours, and the artisans loop community around the Cabot Trail. Our little oasis is sustainable, particularly off-the-grid, and family-owned—an idyllic combination for a long-overdue digital detox. To learn more about a potential wellness retreat to Nova Scotia or to create your own wellness retreat getaway, please give us a call today at 866-929-2584 (or book online).