Anyone who has spent time on Cape Breton Island will tell you it offers an eclectic cultural expedition. One of the most enriching destinations for learning about Cape Breton's rich history is the Membertou Heritage Park, just over an hour's drive from Cabot Shores Wilderness Resort. Not only can you better understand the ancient Mi'kmaq people, but you can also enjoy hands-on learning via several interactive exhibits and guided tours. The Mi'kmaq of Membertou gladly invites you to immerse yourself in their storied past with a series of authentic experiences you won't soon forget.
On Your Way to Membertou Heritage Park
Another fascinating aspect of taking a trip to Membertou Heritage Park is the picturesque scenery and jaw-dropping views you'll see along the way. If you take the Cabot Trail Road to the Trans-Canada Highway, you have a chance to stop at Goose Cove and then at St. Ann's Provincial Park. Otherwise, you can travel alongside and over Jersey Cove to the Englishtown Ferry and take in the sights before arriving on the other side. Either way, you'll want to have your camera ready!
3 Things to See and Do at Membertou Heritage Park
With over five acres of living history, Membertou Heritage Park is an adventure all its own. The large outdoor exhibit area goes above and beyond to bring the Mi'kmaq culture to life while preserving its heritage. Here are five unique experiences you don't have to be a history buff to appreciate.
The Medicine Walk takes you along the nature trails of Unama'ki in Nenbertou's Mi'kmaw community. Discover several herbal medicines derived from various roots, mosses, leaves, flowers, and berries. You can also sample their traditional tea and luskinikn bread.
A drum-making clinic offers a foray into connecting yourself with nature's heartbeat. Weave a personalized design and create a hand drum that fits your style. The instructor will also give you a history lesson about the significance of First Nations musical traditions.
Guided and self-guided tours provide a wealth of knowledge with several interpretive and interactive displays. You may also be able to catch a traditional Mi'kmaq Drumming and Chanting presentation or an ancient dice game of strategy and chance called Waltes.
Dome Camping and Cottage Rentals on Cape Breton Island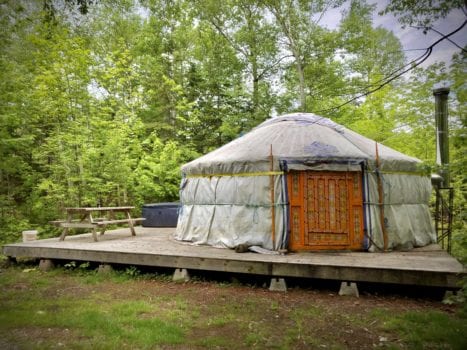 After spending some time at Membertou Heritage Park, you'll undoubtedly have a new appreciation for Cape Breton Island's history and heritage. Thankfully, Cabot Shores is within reasonable driving distance, and you'll have ample time to enjoy the countryside both ways. Whether you want to experience dome camping, yurt life, or comfortable cottages, you'll have a wide selection that isn't usually available at other Nova Scotia resorts. To find out more or to book your stay, please reach out online or call 866-929-2584 today!