With its oceanside cliffs and a seemingly endless array of outdoor recreation, Cape Breton Island, Nova Scotia, offers an excellent summer getaway experience. The weather is comfortable, the people are friendly, and its storied past lends itself to an imaginative journey. Combine those aspects with eclectic lodging options from Cabot Shores Wilderness Resort, and you'll have the makings of an unforgettable summer vacation adventure.
Dome Camping, Yurts, Chalets, and More at Cabot Shores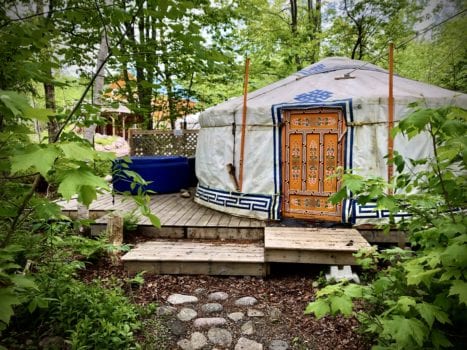 Cabot Shores provides a unique basecamp for discerning travellers hoping to fulfill their Nova Scotia bucket list. You will find easy access to the world-renowned Cabot Trail, but you'll also discover your new favourite retreat destination rife with recreational activities, wellness amenities, and delicious food. Check out the seasonal and year-round all-inclusive vacation packages to enhance your stay! In the meantime, here are ten reasons to visit Cape Breton Island for an unparalleled Nova Scotia summer experience.
Maximize Your Nova Scotia Summer Trip on Cape Breton Island
From golf to kayaking, here are five things to do that will help make the most of your summer trip to Cape Breton, Nova Scotia.
Cape Breton Island may not be the first place you think of for a golf getaway. Still, there are many world-class courses, some of which are featured in several popular golf publications. And the summer weather is perfect for a day on the fairways.
Museums, heritage, and historic sites paint a vivid picture of Cape Breton's cultural identity. Whether it's ancient stories told by the island's five First Nations communities or the Acadian and Gaelic culture imported from Europe, Cape Breton Island boasts a rich history.
Cape Breton is a hiker's heaven. Start your exploration alongside our segment of Indian Brook, make your way to the French River Wilderness, or take a trip up to Cape Breton Highlands National Park if you're looking for a formidable challenge. We also offer guided hikes.
This summer, whether onsite or afar, kayaking and canoeing are immersive ways to explore Cape Breton. Single and double kayak and canoe rentals are available.
Breathtaking vistas await amid the Cabot Trail. Find a collection of hidden waterfalls, culinary delights, and undeveloped beaches by driving or biking along this renowned scenic corridor.
Cabot Shores: A Quintessential Nova Scotia Summer Retreat
It doesn't take long to realize the intriguing appeal of Cape Breton Island. Whether you want to experience backcountry camping or simply indulge in the beauty of nature's bounty, Cabot Shores invites you to escape from the everyday. Summer won't wait, so start planning your unforgettable adventure today by booking online or calling 866-929-2584.